ANALYSIS OF UNDERSTANDING HOW LUXURY HOTELS IN INDIA ENSURE SERVICE QUALITY THROUGH EFFECTIVE HRM
Armstrong (2006) stated that the competitive business environment has forced organisations to maintain high degree of quality in order to sustain for a long period of time. Mayo (2012) further added that in order to create value and survive, it is important to make sure that the valuable assets of organisations in the form of employees are managed well. Noe (2014) further added that the quality of services can be judged and analysed as per the customers' expectations, feedback, and perception. However, external customer satisfaction is purely dependent on the satisfaction level of internal employees. Employees' satisfaction level is closely related to the superior services. Mayo (2012) mentioned that the positive relationship between organisations and employees help in improving the quality of services being offered to customers in a significant manner. Klerck (2009) in terms of defining the service quality stated that services are intangible in nature that makes them difficult to measure physically compared to other products available in the market. Service quality focuses on the satisfaction level of customers along with making sure that their expectations is exceeded in a meaningful and anticipated manner. The focus on customer value and satisfaction drives the way for organisational success in the short and long run. Noe (2014) further added that service quality is also an important force behind the customer loyalty that is important to gain as well as sustain competitive advantage in the complex business environment. Wolfinbarger (2003) further added that the role of a motivated human resource is quite important in delivering the superior and exemplary service quality by ascertaining the needs and demands of customers. Lawler (2009) supported this argument by adding that a motivated and committed employee is often engaged in delivering high level of service quality that is important for customer satisfaction. Thus, it can be said that there is a close association between satisfied employees (that is mainly because of effective HRM policies) and effective service quality. However, this relationship needs to be explored critically.
EXPECTANCY THEORY AND EMPLOYEE COMMITMENT FOR SERVICE QUALITY
Trevisani (2016) stated that expectancy theory is based on the individual goals and objectives that are driven and largely motivated by the certain expectations. This theory is based on choices being available and understanding the process of making those choices. Mondy et al (2014) added that individuals have to decide the level of efforts required to invest in certain tasks as per their expectations and assumed chances of desired outcomes. Marimuthu et al (2009) stated that, it is often believed that employees with positive expectations and feeling of achieving better results tend to be more motivated.
Paauwe and Boon (2009) stated that the expectation level of each employee is different just like that of each customer. Thus, in order to fulfill the expectations of employees, it is important to set mutual goals and objectives. The HRM needs to be communicating the common goal along with making sure that desired level of expectations is achieved from the employee and customers' perspectives. Wang and Niu (2010) added that in relation to the employee commitment for service quality, organisational culture plays an important and crucial role. The organisational culture facilitating human resources by implementing policies causing employees' motivation and satisfaction tend to be helpful in creating high standard of service quality. Delivering superior service to customers is purely dependent on highly motivated and committed human resources. Hargis and Bradley (2011) stated that employees' motivation and organisational commitment is strongly dependent on the association with HR policies and practices.
Mondy et al (2014) stated that when the expectations of employees are fulfilled by the HRM, they tend to be motivated to offer high level of service quality to end customers. Mayo (2012) argued that the expectations of each employee are different and motivating them toward higher standard of service might be a challenging task. Noe (2014) stated that strong HRM practices like better compensation, effective work climate, recognition at work, equity, and transparency affect the morale of employees in a positive manner. This also helps in enhancing the overall quality of service in a precise manner. Klerck (2009) pointed that when employees are awarded and rewarded for their work and contribution, they tend to be more focused and serious regarding their responsibility. Overall, it can be said that fulfilling the expectations of employees is one way of fulfilling the expectations of customers.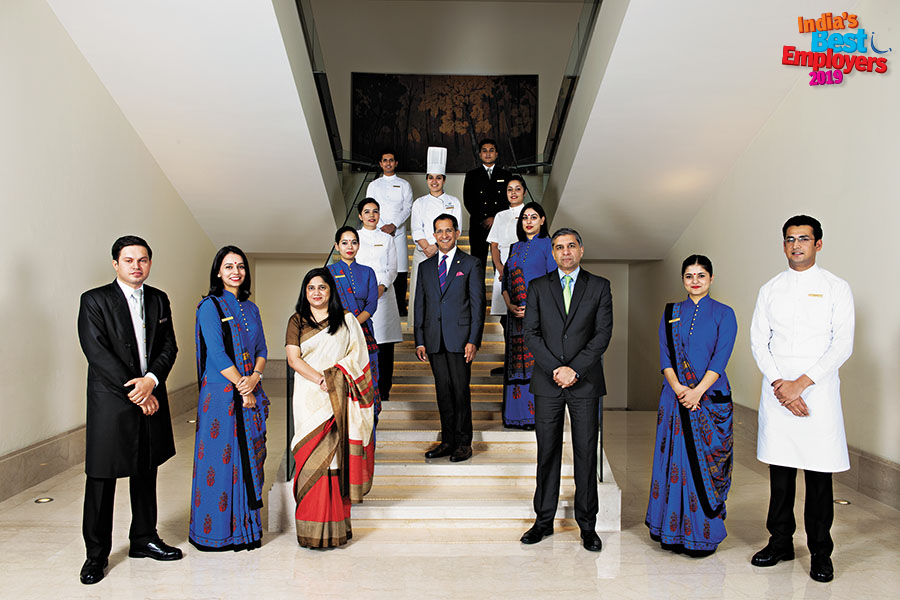 Challenge
Solution
Result
Challenge
The research work will aim to understand how luxury hotels in India ensure service quality through effective HRM. It will also aim to analyse the relationship between HRM and service quality in a critical manner.
Solution
Result